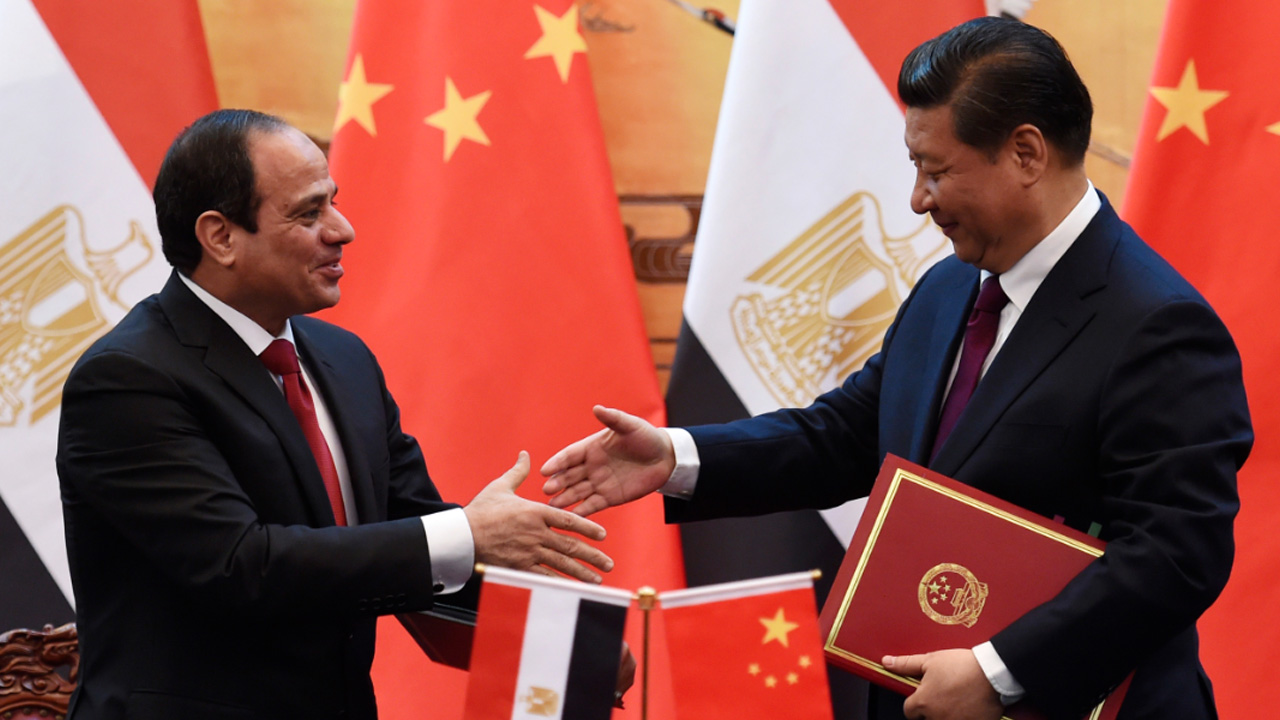 Egyptian President Abdel Fattah al-Sisi talks with Chinese President Xi Jinping in Abdeen.
Chinese President Xi Jinping arrived in Egypt Wednesday night on the second leg of his three-nation tour of the Middle East, and the two countries are eyeing cooperation in infrastructure and renewable energy as Egypt seeks investments to revitalize an economy suffering from social and political turmoil since the Arab Spring.
Magdy Amer, Egyptian ambassador to China, said that negotiations have progressed on various Chinese investments in construction, power and transportation, the Financial Times quoted Al-Ahram, the state-run Egyptian newspaper, as saying.
As the wind vane for transition countries in the Middle East, Egypt needs to sustain growth to consolidate economic achievements gained after the political unrest, and large-scale infrastructure projects can yield instant results, Wu Bingbing, head of the Institute of Arabic-Islamic Culture Studies at Peking University, told the Global Times.
Egypt has implemented many infrastructure projects to boost the country's economy, among which the New Suez Canal and the New Capital projects are the most important.
Egyptian President Abdel-Fattah al-Sisi ordered the completion of the New Suez Canal in August 2015.
As one of the world's most important waterways, economic zones will soon be established around the canal. China can help Egypt with the economic zones' construction, Liu Zhongmin, a professor at the Middle East Studies Institute of Shanghai International Studies University, told the Global Times.
Liu also added that there are promising investment opportunities in the Suez Canal corridor, including infrastructure projects such as the construction of new tunnels and railway networks connecting the Suez to other regions.
Aside from the canal, the Egyptian government's plan to build a new capital provides even more possibilities for cooperation between the two countries in infrastructure, Wu said.
The Egyptian government announced plans to build a new capital east of Cairo in 2015, a project which reportedly includes almost 2,000 schools and colleges and more than 600 healthcare facilities.
Building a capital of such a scale requires great capacity and technologies. China's rich experience and technologies in related fields can significantly boost the two countries' cooperation in infrastructure, Liu said.
Egypt has a poor traffic infrastructure, with railways and roads built years ago. As a leading country in this field, China can help Egypt build more railways and roads to boost its economy and improve the people's quality of life, said An Huihou, a former Chinese ambassador to Egypt.
Egypt has experienced setbacks and infrastructure projects remain unaccomplished. The two countries have great potential in infrastructure cooperation, An said.
Clean Energy
According to China's recently-released Arab Policy Paper, China will deepen its cooperation with Arab countries in nuclear and new energy.
Egypt has rich solar and wind resources, and has a demand for nuclear energy. China could use its technologies as well as capacity to help Egypt develop renewable sources of energy to boost its economy, An further noted.
According to the Xinhua News Agency, a Chinese trade delegation led by the Ministry of Commerce signed 12 agreements on Tuesday with Egyptian companies in Cairo valued at $60.4 million.
The expansion of the China-Egypt Suez Economic and Trade Cooperation Zone, one of China's premier overseas investment zones, will also soon begin, a Chinese construction company said Wednesday.
The project is worth $230 million, said Zhang Yixiang, CEO of the Egypt TEDA Special Economic Zone Development Company.
Source: "Xi Kicks off Mideast Visit," Global Times, January 19, 2016, http://www.globaltimes.cn/content/964343.shtml.