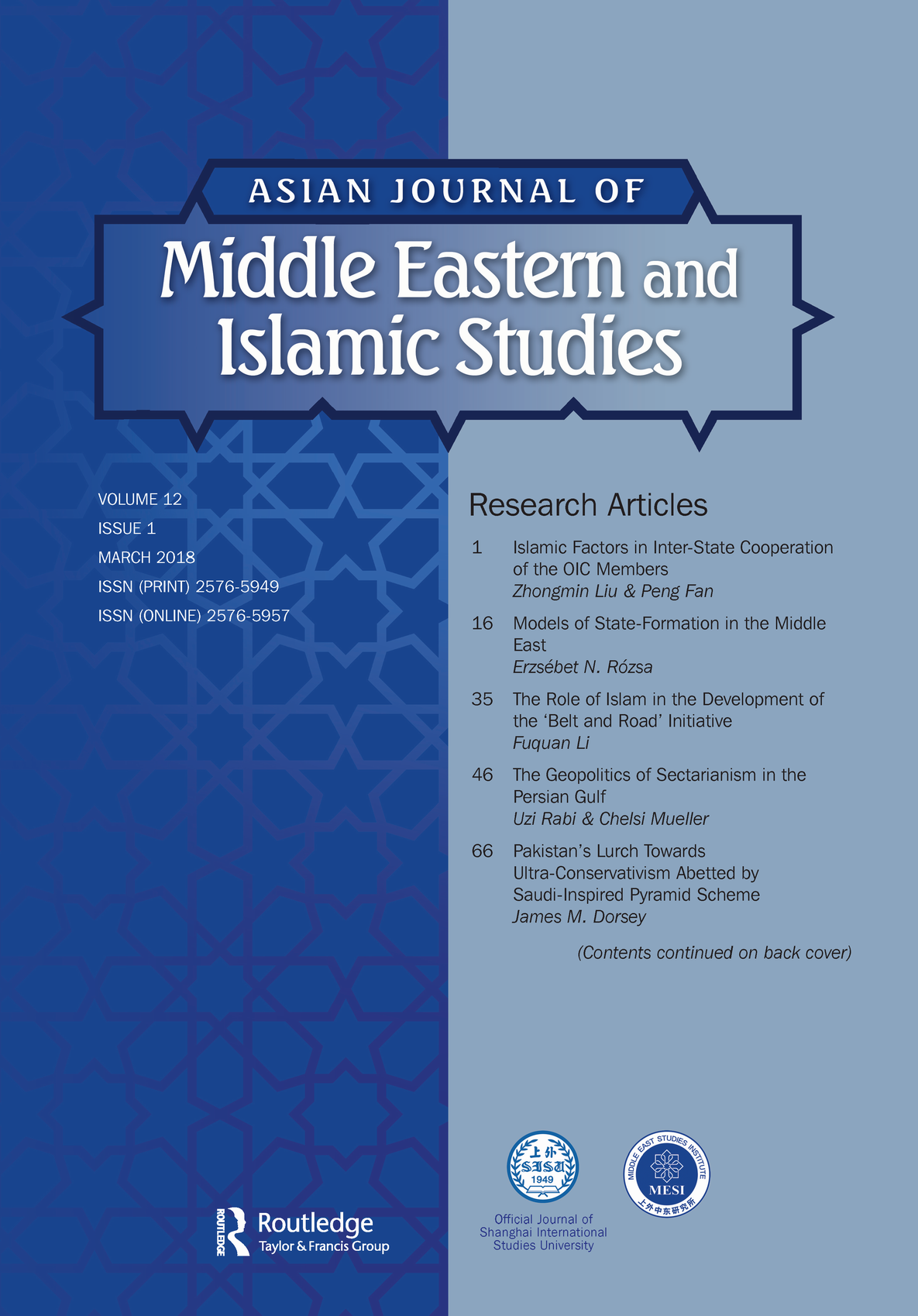 Asian Journal of Middle Eastern and Islamic Studies (AJMEIS)
Editorial Board
Editors-in-chief
Jun Ding, Shanghai International Studies University, China
Tim Niblock, Exeter University, UK
Deputy Editor-in-chief
Song Niu, Shanghai International Studies University, China
Editorial Board
Talmiz Ahmad, Symboisis International University, India
James M. Dorsey, Nanyang Technological University, Singapore
Enseng Ho, National University of Singapore, Singapore
Tugrul Keskin, Shanghai University, China
Mehrdad Kia, University of Montana, USA
Shengxiang Liu, Shanghai International Studies University, China
Zhongmin Liu, Shanghai International Studies University, China
Yufeng Mao, Widener University, USA
Lenore Martin, Emmanuel College and Harvard University, USA
Mustapha Machrafi, Mohammed V University, Morocco
Satoru Nakamura, Kobe University, Japan
Mahendra Pratap Rana, Jawaharlal Nehru University, India
Saud Al-Sarhan, King Faisal Center for Research and Islamic Studies, Saudi Arabia
Degang Sun, Fudan University, China
Bo Wang, Shanghai International Studies University, China
Michael Willis, Oxford University, UK
Guang Yang, Chinese Academy of Social Sciences, China
Murat Yurtbilir, Australian National University, Australia
Yuan Zhang, Shanghai International Studies University, China
Weilie Zhu, Shanghai International Studies University, China
Yahia H. Zoubir, Kedge Business School, France
Director of Editorial Department:
Meng Shu, Shanghai International Studies University, China
Aims and Scope
Asian Journal of Middle Eastern and Islamic Studies (AJMEIS), a double-blind review quarterly, has established a reputation for publishing scholarly research and analysis, as well as book reviews, on the Middle East and the Islamic world. Included within the areas covered are North Africa, West Asia and the various regions and countries in Asia containing significant Muslim communities. The Journal focuses in particular on the political, security, economic, energy, cultural, educational and demographic linkages between Asia and the Middle Eastern/Islamic worlds. The approach is interdisciplinary, straddling and combining perspectives from political science, international relations, history, economics, anthropology, sociology, culture and religion.
Submitting to Asian Journal of Middle Eastern and Islamic Studies
For more information about the journal and guidance on how to submit, please see www.tandfonline.com/RMEI.