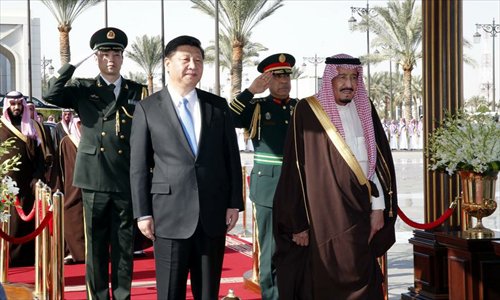 Chinese President Xi Jinping (L, front) attends the welcoming ceremony held by Saudi King Salman bin Abdulaziz Al Saud (R, front) before their talks in Riyadh, Saudi Arabia, Jan 19, 2016. Xi arrived here on Tuesday for a state visit to Saudi Arabia, the first stop of his three-nation tour of the Middle East. Photo Xinhua
Chinese President Xi Jinping Tuesday announced with his Saudi host that the two countries welcome the progress made in China-Gulf Cooperation Council (GCC) free trade area negotiation, and agreed to establish the free trade area as early as possible as he started his two-day visit to Saudi Arabia.
Xi on Tuesday met with King Salman bin Abdulaziz Al Saud. The two leaders announced that China and Saudi Arabia are to lift bilateral ties to a comprehensive strategic partnership.
They also pledged to resolutely oppose terrorism in any form that threatens world peace and stability, vowing to strengthen security cooperation.
We are against linking terrorism with any religion or religious sect, the two countries announced in a joint statement signed as Xi is visiting the kingdom.
Wu Yihong, an expert on the Middle East, told the Global Times that another main focus of Xi's Saudi trip will be upgrading China's and Saudi Arabia's energy cooperation, which is at the center of the two countries' economic ties.
Saudi Arabia has a strong demand for solar and nuclear energy, while China has both technological and capacity advantages in these two fields. China could use such advantages to help Saudi Arabia develop renewable resources that fit the country's situation, as well as make good use of its overcapacity, Li Shaoxian, director of the China-Arab Research Institute at Ningxia University, told the Global Times.
Saudi Arabia is China's biggest global supplier of crude oil and its biggest trading partner in West Asia and Africa, as well as a heavyweight among Gulf monarchies. In 2013, China became the biggest trading partner of Saudi Arabia for the first time.
Two-way trade reached $69.1 billion in 2014, 230 times more than at the establishment of diplomatic ties in 1990. Today, one in six barrels of the crude oil China imports comes from Saudi Arabia.
Analysts said the upgrade is driven by China's weaker-than-expected crude oil demand and Saudi Arabia's desire to diversify its economy.
China's demand for crude oil will continue to shrink in the future, despite its current status as the world's biggest crude oil buyer. This is caused by the country's economic slowdown as well as its target to curb carbon emissions, Wu said.
Saudi Arabia is also aware of the trend, so upgrading energy ties has become necessary to ensure that bilateral energy cooperation will not be affected in the post-crude oil era, Wu said.
Saudi Arabia said in its 10th five-year development plan (2015-19) that it plans to enhance economic diversification by developing production and service activities related to oil industry, investing in projects related to the diversification of energy sources as well as developing the services sector, such as finance, tourism, and IT.
The two countries should build a long-term, stable China-Saudi Arabia community of energy cooperation as well as prioritize the peaceful use of nuclear energy and renewable energy, in an effort to enrich practical cooperation, Xi said in an article published in Saudi newspaper Al Riyadh on Monday.
China and Saudi Arabia could also deepen their cooperation in oil-related industries such as oil exploitation and refining, by offering Saudi Arabia necessary equipment as well as technologies, Liu Zhongmin, a professor at the Middle East Studies Institute of Shanghai International Studies University, told the Global Times.
Rail, port development
Xi's visit also seeks to enhance cooperation with Saudi in infrastructure and investment.
Increasing funds allocated for infrastructure projects and directing national and foreign investments toward high technology content and high value-added sectors have become the country's priority in the next four years in Saudi Arabia, according to Saudi's development plan.
China can build ports for Saudi Arabia, since it's near the Persian Gulf and the Red Sea. Meanwhile, six GCC countries are planning to build high-speed railways to connect each other, which may require China's experience, Liu said.
Source: Global Times