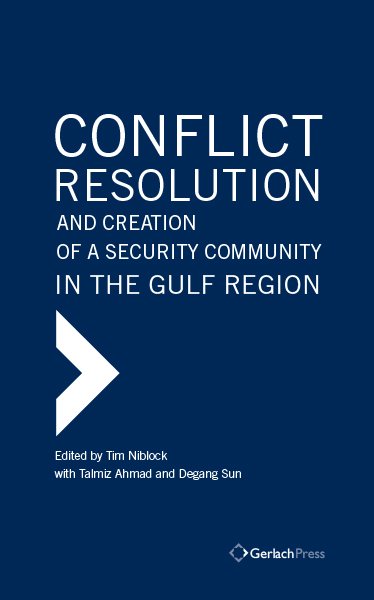 INFORMATION

NAME:Conflict Resolution and Creation of a Security Community in the Gulf Region
AUTHORS:Tim Niblock, Talmiz Ahmad and Degang Sun, eds.
PUBLISHING HOUSE:Gerlach Press
PUBLICATION DATE:September 1, 2017
PAGES:160 pages
ISBN:9783959940368
INTRODUCTION
The bitter confrontation between Saudi Arabia and Iran is not only stoking conflicts in Syria, Iraq and Yemen, but now threatens the stability, security and well-being of the whole Gulf region. All the major global powers have significant interests in this area, and the pursuit of these interests adds further layers of division and conflict. This book goes to the heart of this issue, examining the critical modalities whereby the Gulf Cold War can be brought to an end. What is needed, the contributors argue, is the creation of a security community among the states of the Gulf. The processes through which this could be achieved are carefully examined. All those interested in the future and well-being of the Gulf region should give consideration to the perspectives advanced. This volume is based on a workshop held at the Gulf Research Meeting organized by the Gulf Research Center Cambridge in summer 2016.
AUTHORS
Tim Niblock, Emeritus, University of Exeter
Talmiz Ahmad, Former Indian Ambassador to Saudi Arabia, Oman and the UAE
Degang Sun, Deputy Director of the Middle East Studies Institute, Shanghai International Studies University
CONTENTS
Introduction / Tim Niblock
1. Collective Security, Security Communities and the Gulf Region / Tim Niblock
2. Prospect for Collective Security in the Gulf: Changing Dynamics of Treat Perception, from Low-Intensity Conflicts to War / Siret Hürsoy
3. Bridging the Saudi-Iran Doctrinal and Strategic Divide: An Indian-led Role to Shape Regional Collective Security / Talmiz Ahmad
4. China's Even-handed Taiqi Diplomacy towards the Gulf Security / Degang Sun
5. Sectarianism, Terrorism and Security Dilemmas in the Gulf Region / Chengzhang Bao
6. Cold War Modalities – Do Tey Have a Chance in the Gulf? / Erzsébet N. Rózsa
7. Applying the OSCE Model to the Gulf / Satoru Nakamura
8. Drawing the Contours of a Cooperative Security Arrangement in the Gulf to Address Non-Traditional Treats - an Indian Engagement / Sanjay Singh
About the Contributors